A magnitude 5.8 earthquake has spread in various parts of the country in Kashmir, leaving heavy cracks in the roads near the canal Upper Jhelum in Mirpur Jatlan, causing several vehicles to overturn.
"5 people were killed and more than 100 were injured in a severe earthquake in various parts of Punjab, Khyber Pakhtunkhwa, and Kashmir, including Islamabad. Due to the high prevalence of injuries, local hospitals have reduced the space which is providing medical help to the injured by placing matrices outside the hospitals."
According to details, the earthquake has devastated in Mirpur Azad Kashmir, roads have been smashed and many people have been reported injured. Deputy Commissioner Mirpur said an earthquake has also been damaged due to the earthquake. Several people were injured, including being taken to a hospital.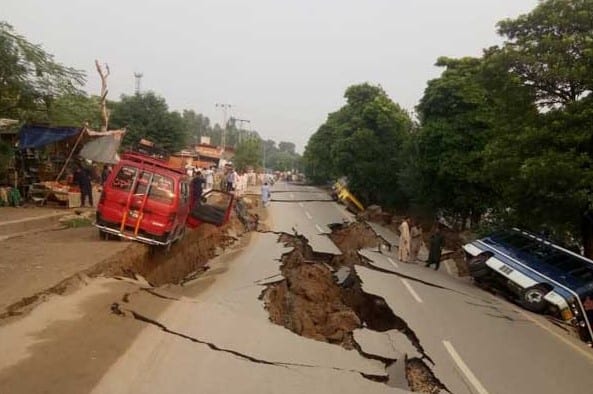 Mirpur Azad Kashmir, Jatlan and surrounding areas have broken down, two people have been reported till now, while 100 injured, Azad Kashmir Assembly Chaudhry Saeed said, a private hospital due to the earthquake. Has also suffered severe damage.
On the other hand, Prime Minister Raja Farooq Haider shortened the visit to Lahore as soon as the earthquake was reported and left for Lahore on an emergency visit to Mirpur, where Prime Minister Azad Kashmir will oversee relief work.
He directed the aid agencies to speed up the operations and said to the media that I am going back to Mirpur on the information of the earthquake. NDMA teams are also reaching Mirpur. The Army Chief is grateful for the relief efforts. ۔
Prime Minister Azad Kashmir said that emergency has been imposed in hospitals, I will go to Mirpur and supervise relief work myself.